The pump is based on the second generation of pumps on the basis of innovation, with the characteristics of the second generation of pumps.

Characteristic:
A, design innovation: Rotor line optimization design, the key is not the structure optimization, material configuration is more reasonable.
B, process innovation: the key components of the use of metal mold casting, resin sand molding, digital processing, the appearance of no putty paint.
C, better performance: zero flow compression ratio, high vacuum limit, high reliability.
D, shape innovation: to increase the effect of heat dissipation design, beautiful appearance, has applied for design patents.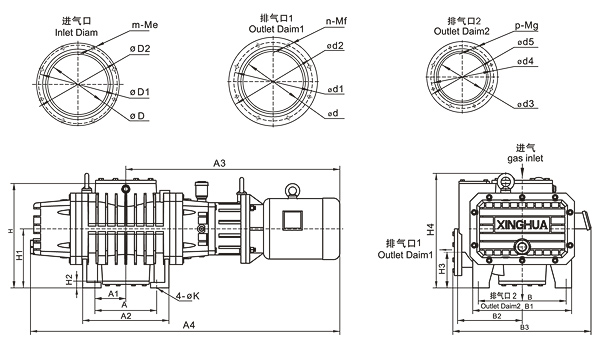 | | | | | | | | | | | | | | | | | | | | | | | | | | | | | | | |
| --- | --- | --- | --- | --- | --- | --- | --- | --- | --- | --- | --- | --- | --- | --- | --- | --- | --- | --- | --- | --- | --- | --- | --- | --- | --- | --- | --- | --- | --- | --- |
| Model | A | A1 | A2 | A3 | A4 | B | B1 | B2 | B3 | H | H1 | H2 | H3 | H4 | D | D1 | D2 | d | d1 | d2 | d3 | d4 | d5 | m | n | p | e | f | g | k |
| ZJP30A | 48 | 24 | 90 | 500 | 682 | 220 | 250 | | | 235 | 130 | 25 | | 283 | 50 | 90 | 110 | 40 | 80 | 100 | | | | 4 | 4 | | 8 | 8 | | 14 |
| ZJP70A | 125 | 62.5 | 178 | 570 | 810 | 208 | 248 | | 355 | 235 | 125 | 11 | | 280 | 80 | 125 | 145 | 50 | 90 | 110 | | | | 4 | 4 | | 8 | 8 | 8 | 12 |
| ZJP150C | 150 | 75 | 224 | 695 | 980 | 290 | 330 | 195 | 445 | 325 | 175 | 35 | 135 | 345 | 100 | 145 | 170 | 80 | 125 | 145 | 100 | 145 | 170 | 4 | 4 | 4 | 10 | 8 | 10 | 18 |
| ZJP300C | 225 | 112.5 | 314 | 772 | 1120 | 320 | 360 | 235 | 502 | 380 | 215 | 25 | 130 | 412 | 150 | 195 | 220 | 95 | 145 | 170 | 100 | 145 | 170 | 8 | 8 | 8 | 10 | 8 | 8 | 18 |
| ZJP600C | 270 | 135 | 350 | 953 | 1340 | 440 | 490 | 340 | 645 | 485 | 285 | 30 | 152 | 522 | 200 | 260 | 285 | 160 | 200 | 225 | 160 | 200 | 225 | 8 | 8 | 8 | 10 | 10 | 10 | 18 |
| ZJP1200E | 380 | 190 | 530 | 1212 | 1735 | 480 | 540 | 425 | 790 | 530 | 300 | 30 | 165 | 572 | 250 | 310 | 335 | 200 | 260 | 285 | 200 | 260 | 285 | 12 | 12 | 12 | 10 | 10 | 10 | 22 |